Discover more from Yair's Newsletter
A dispatch covering politics, religion, and culture—with a Jewish twist. Come for the reporting, stay for the trolling of antisemites and suspiciously accurate financial forecasts and political predictions.
Over 4,000 subscribers
How to Explain the Holocaust in One Simple Statistic
Plus: The surprisingly good news about Muslims and Jews in America
Today is Yom ha-Shoah, Israel's day of commemoration for the Holocaust and Europe's millions of murdered Jews. Because of its enormity, trying to encapsulate the Holocaust often feels like an exercise in futility. Many approaches have been taken to the task, like this year's effort to personalize the experience by turning one Jewish girl's story into an Instagram account. (It sounds like a gimmick, but is actually quite powerful.)
In my work as a journalist, I've found that one particular statistic is helpful in driving home the devastating scale and impact of the Shoah for those who are less familiar with it. It comes from this Washington Post chart: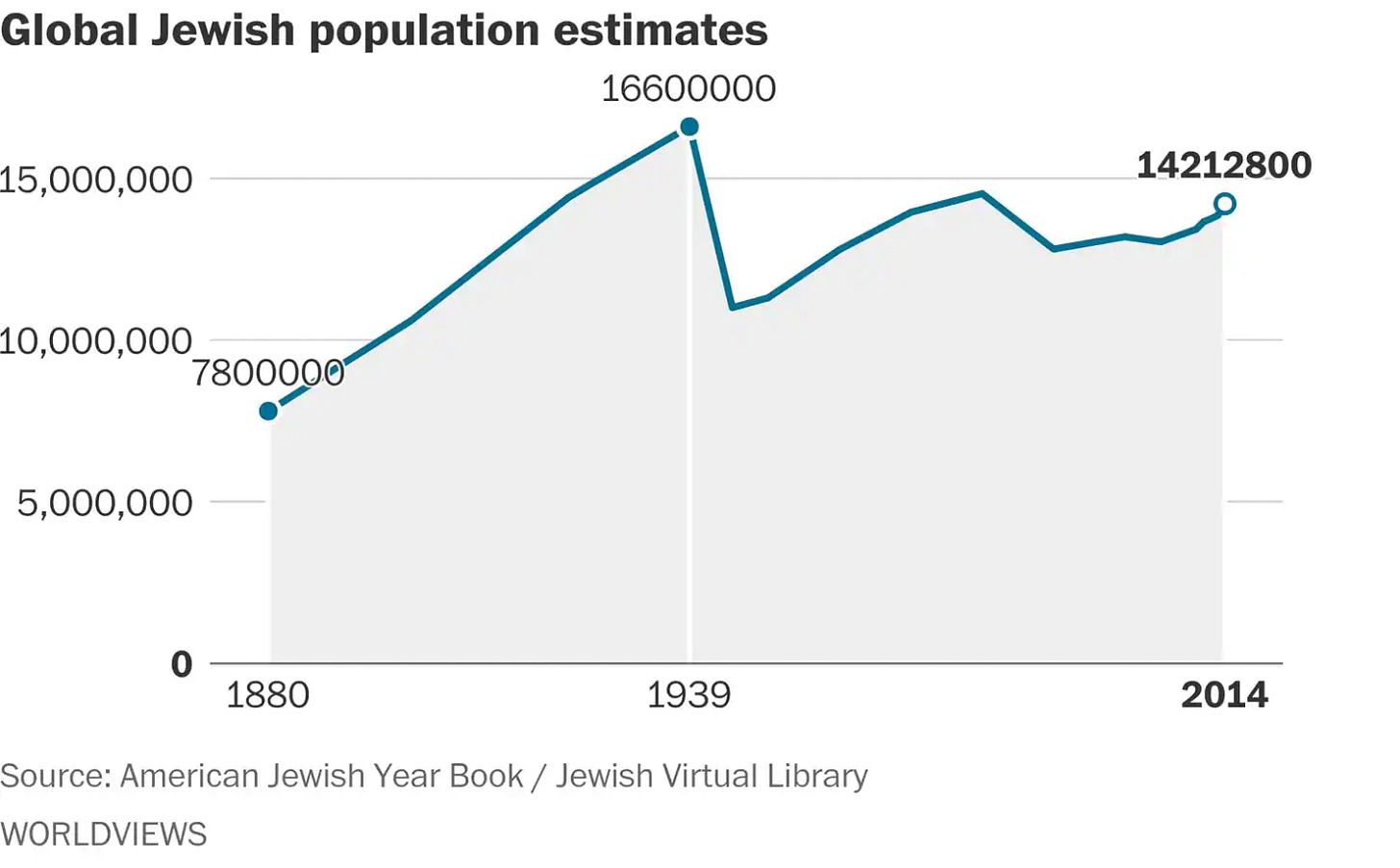 What exactly is meant by the term "Holocaust"? It means that the global Jewish population in 2019 (~15 million) is still lower than it was in 1939 (16.6 million). So many Jews were murdered that we still haven't recovered demographically after 80 years.
Sit with that for a moment.
One of the inevitable outcomes of writing about the Holocaust online is that you attract the attention of Holocaust deniers. Some of these people actually believe the genocide never happened, while others are just performatively suggesting it didn't in the hopes of unsettling Jews like me. Whatever their intentions, I take some small solace in dunking on them on Twitter.
Some good news about Muslims and Jews
One of the best ways to ensure that something like the Holocaust never happens again is to foster coexistence and tolerance towards Jews and other vulnerable communities. On that score, this week brought some good news with the release of the American Muslim Poll for 2019 (PDF), entitled, "Predicting and Preventing Islamophobia." Among its findings were that Jews are the most supportive American faith group toward Muslims—and that these sentiments are returned in kind:
Of all faith groups apart from Muslims, Jews score the lowest on the Islamophobia Index. A majority (53%) of Jews report having positive views of Muslims with 13% reporting negative views. In contrast, white Evangelicals score the highest on the Islamophobia Index with as many as 44% holding unfavorable opinions about Muslims, which is twice as many as those who hold favorable opinions (20%).
The poll similarly found that 45% of Muslims hold favorable views of Jews, with only 10% reporting negative views. These results are a reminder that despite the best efforts of extreme voices in both communities to poison the relationship—often using the Israeli-Palestinian conflict as a wedge—Jews and Muslims have more in common than most outsiders realize. It's a relationship that's worth investing in and building on, whether through initiatives like the Sisterhood of Salaam Shalom, the American Jewish Committee's and Islamic Society of North America's Muslim-Jewish Advisory Council, or the Shalom Hartman Institute's trailblazing Muslim Leadership Initiative. (You'll see an interfaith event related to this work in my speaking calendar below.)
Along those lines, I recommend reading the replies to this thoughtful Twitter thread initiated by Iyad el-Baghdadi, a Palestinian commentator born in Kuwait who gained prominence during the Arab Spring and currently resides in Norway. It's a reminder that honest dialogue is possible even on the most fraught issues, and that it starts with honest questions.
Upcoming Speaking Appearances
May 4-5 | Harvard Hillel, Cambridge, MA
Scholar-in-residence weekend
May 14 at 7:30pm | Greenwich Historical Society, Greenwich, CT
Mainstreaming of Anti-Semitism (with Oren Segal, Director of the Anti-Defamation League's Center on Extremism)
Details and registration here.
May 20 at 6pm | Adat Shalom Synagogue, Farmington Hills, MI
Surviving Social Media: Interfaith Engagement in a Digital Age (with Rabia Chaudry)
Details and registration here.
May 21 at 7pm | Stephen Wise Temple, Los Angeles, CA
Across The Divide: Examining the Past, Present and Future of Israel Engagement
Details and registration here.
---
If you liked this post, please be sure to subscribe to get future installments directly in your inbox:
Questions? Comments? Rank Holocaust denial? I'd love to hear from you and potentially mock you. Reply to this email, or drop me a line at yrosenberg@tabletmag.com. You can also find me on Twitter and Facebook. And be sure to tell your friends about this newsletter!