Discover more from Yair's Newsletter
A dispatch covering politics, religion, and culture—with a Jewish twist. Come for the reporting, stay for the trolling of antisemites and suspiciously accurate financial forecasts and political predictions.
Over 5,000 subscribers
The Right Way to Respond to Racism
What we can learn from Pittsburgh Steeler Zach Banner if we really listen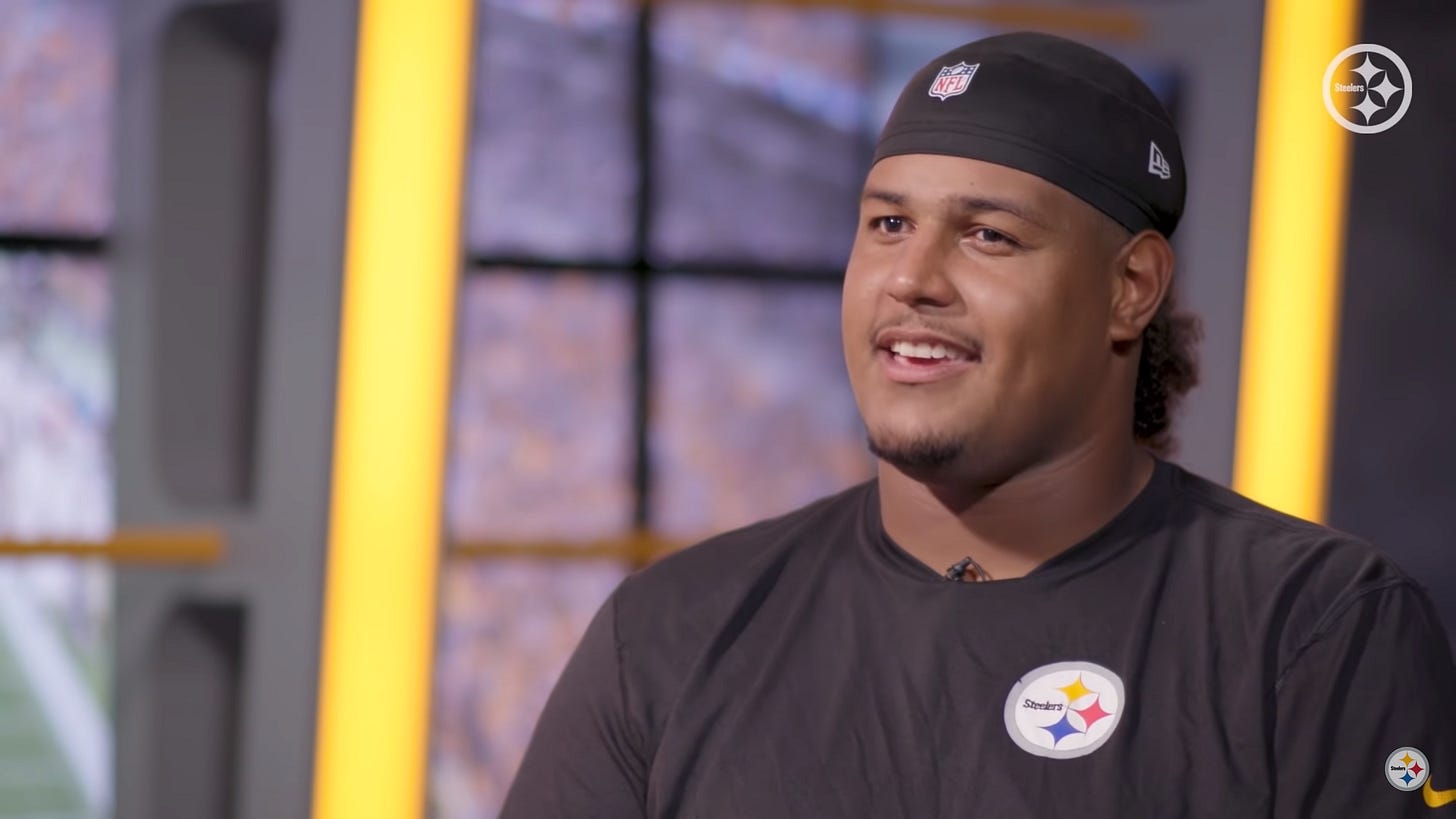 The NFL's anti-Semitism controversy this week began with a Hitler quote that was not in fact a Hitler quote that claimed that Jews were not in fact the real Jews. I unpacked the whole story today in Tablet, explaining the unusual theology that gave rise to an anti-Semitic Instagram post that has roiled the sports league.
After the anti-Semitic incident itself, however, the story takes an unusual turn. Several players and other athletes came out in support of the offensive statement, even after the player who posted it apologized. But one player came out strongly against the anti-Semitism: Zach Banner of the Pittsburgh Steelers.
In a video message on social media, the offensive tackle said:
There's a common misbelief that among Black and Brown people—and I know this from growing up and I've heard it and I've listened to it—that Jewish people are just like any other white race. You know, you mix them up with the rest of the majority and you don't understand that they are a minority as well.

I didn't know this until I went to USC and I had friends who are now family members, believe it or not, who are part of the Jewish community, current students and alumni. And also I was here on the team, my first year with the team a couple of years ago ... it's just tough man … during that synagogue shooting in this beautiful city of Pittsburgh.

We need to understand that Jewish people deal with the same amount of hate and similar hardships and hard times. I'm not trying to get emotional right now but I want to preach to the Black and Brown community that we need to uplift them and put our arms around them just as much. When we talk about Black Lives Matter and talk about elevating ourselves, we can't do that while stepping on the back of other people to elevate ourselves.

That's very very important to me and it should be important to everyone. We can't preach equality but as a result we're just trying to flip the script and change the hierarchy, if that makes sense. Change your heart, put your arm around people, and let's all uplift each other.
This utterly unexpected expression of empathy resulted in an outpouring of Jewish gratitude to Banner, including countless donations to his personal foundation, which serves students in underprivileged communities.
It's a beautiful story. But it can and should be more than that.
The problem with feel-good social media moments in response to prejudice is that they frequently prove superficial and short-lived. At the time, people praise the outsider for showing solidarity with their community. But too often, that's where the conversation ends, and when the same person speaks up later about their own concerns for their own community, they do not receive the same response.
Put concretely, if we truly appreciate Banner listening to the Jewish community about anti-Semitism, we should also be listening to him about racism. We should value his experience like he valued ours. It's not simply a matter of giving his causes money or attention—it's about an authentic relationship.
How does this work? For starters, I'd suggest that every Jew try to capture how they felt hearing Banner's words—that sense of unexpected grace, of being truly seen and finally being understood—and commit to doing the work to evoke that feeling in others.
After I published my article and drafted most of this newsletter, Banner himself posted a new video, in which he said this better than I could. After calling on his fellow players in the NFL to break their silence on the anti-Semitism still swirling around the league—"it just seems like we don't care"—he turned to the Jewish community and said this:
I am also going to turn the page real quick. I want to thank the Jewish community for how much money and support you gave my foundation last night after I put my neck out there for you guys.

I got the biggest heart in the NFL. Everybody who knows me knows that. But I ask after this weekend, when I change my picture back from "Stronger than Hate" back to my nice smile that everybody loves, I ask you to keep that same energy.

We got a lot of money last night for the little Black and Brown boys and girls in Tacoma, WA, Los Angeles, CA, and the island of Guam, which I take a huge responsibility for. Your support and your money is going to go a long way, and I promise you that, and I'll show you that. But at the same time, keep that same energy moving forward, because I don't want to feel like I was used for something, if that makes sense.

I preach equality. I preach peace. I love you guys, I love everybody. Let's lift each other up. Black lives matter. Black lives matter. And so does the Jewish community.
It's great to show appreciation to Banner for what he did. It's certainly worthwhile to donate to his foundation. But the best way to thank him is to emulate him, and treat other communities—most especially the Black community—the way he has treated us. This shouldn't be a fleeting moment, but an invitation to something lasting.
---
Thank you for reading this edition of my newsletter. If you liked what you read and would like to support this work, please feel free to subscribe: